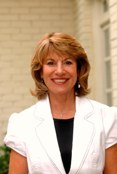 Goodnighties Founder, Marcia Bacon
With a keen eye for color and design, Marcia Bacon is thrilled to be working on a day-to-day basis interacting with customers and the Goodnighties manufacturing facility. She also is personally involved in selecting the fabric and is always designing new styles! It is exciting for Marcia to be instrumental in helping so many women in the same way that Goodnighties helped her body temp fluctuations. She loves to hear from her customers so please keep in touch.
Goodnighties Vice President, Marketing, Sarah Baldwin

In early 2010, tired, exhausted and determined to find a solution for her sleep deprivation Marketing Communication Executive, Sarah Baldwin found Goodnighties through an on-line search that proved to be life changing for her. After the first night, she experienced a noticeable improvement in her sleep. At the time, it felt like a face lift! She then bought a pair of jammies for her best friend to try for chronic exhaustion (hadn't slept well since 1984!) – Again more amazing results- it was from these two experiences that Sarah for the first time in her life, made a cold-call to Marcia and David (she is a marketing executive) and like an old cliché developed business ideas that have grown into a productive partnership (her husband Jack has also joined the team). So together Marcia, Sarah, Jack and David are leading the cause of helping women everywhere sleep better. It has been exciting to take a brand from 'ground-zero' (May 2010) to being featured on The Dr. Oz Show (April 2012) and another 'bigger' the wildly competitive ABC World News #madeinamerica series! - we're now shipping product to all 50 states and 32 countries (so far!).